While in the US this summer, my mother-in-law introduced me to something amazing. Two somethings, actually.
I've been a home mani-pedi girl for years. Just ask my back-in-the-day roommate, Peggy. I arrived in Dakar fresh from the US at the same time that she arrived from Mali after getting bumped out of Cote d'Ivoire because of the coup. The first Sunday night when I busted out my nail polishes, she busted out the eye roll. But before we moved apart, she was on the weekly pedi bandwagon as well.
For years, that's been my routine on Sunday nights. Until this summer when everything changed… for the better.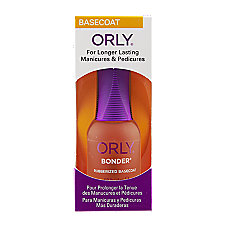 My mother-in-law introduced me to Orly Bonder Basecoat first. I've never been much of a base-coater because of the longer drying times and I couldn't tell that it did much. But she claimed this stuff was great so I gave it a try.
A quick couple of brush strokes later, the first toes were already dry. So I moved right on to my color layer.
The next introduction was to Sally Hansen's Insta-Dri Anti-Chip Topcoat. I was always even less of a top-coater, at best putting one on the following day. But it was the insta-dri promise that hooked me. (Although the silly 'i' instead of 'y' nearly lost me, but I digress…)
Dip, brush, brush, dip, brush, brush… In no time I had finished the topcoat and it was dry to the touch in about two minutes! Sold. Where do I sign?
Not only are they fast and easy (which is good when you're talking nails, mind you), my pedicures are lasting about three weeks without a single chip… even in Dakar! Manicures are usually at least full week sans chipping, depending on how much time I spend in sudsy dish water.
Both of these are easy to find in the US and I highly recommend you add them to your shopping list for the next trip back. They work with any type of nail polish color (not just Insta-Dri formulas) and create an unbeatable trio.